It is time for a personal challenge and story to be created from within my love of cycling. I am entering two year-long fantasy cycling competitions with the goal of winning at least one, and the journey will be detailed here from January to October keeping up with my progress all along.
What games am I playing?
Zweeler - https://en.zweeler.com/results/14951
The first game I decided to enter was the Zweeler Fantasy Cycling 2023. It comes with a cost of €10 but the main prize comes at €2500 and as long as you make it into the best 400 you will get your money back. In a pool of over 2500 teams it is definitely a challenge, but one where I have little doubt I'll succeed. The money incentive sure is nice but what I like most about this minigame is that you make some decisions before the season starts and then you watch it develop over the year.
How this one works is that you select 25 riders at the start of the year, with limited "points" to spend forcing you to have a strategy on the selection, and then over the course of the months you watch the points get piled up over the many races in the calendar. Hopefully, by the end, I'll be in a good position. Personally it is a very complicated game to win but I have the ambition of being within the Top50, that is my ultimate goal.
Click here to create your own team for the Fantasy Cycling 2023 P1. At least $1,635/€1,500/£1,320 in prizes!
FirstCycling - https://firstcycling.com/fantasy.php?k=sta
The second game is the FirstCycling year-long game. This is a more detailed and more time-consuming challenge, however one that comes with an extra degree of complexity and planning that has it's own pleasure associated. It is a game of knowledge in cycling at several levels and consistency. It is, such as the Zweeler year-long game, a true test to your cycling knowledge. And that is just what I'm looking for.
I've been looking to play this minigame for years, but having to pick your team to many races, in quick succession and with a busy schedule became hard. Once you would miss one selection the motivation would never be the same to continue as you are not reaching your full potential. Hence it's a challenge, but this year something which I have set up to do. This article is another boost for me to stay true to my word and always make selections, even if they are far from the best! Here you pick 8 riders (+2 reserves) per race, and out of the hundreds of events throughout the year you keep on adding points.
There is no prize associated with this one, it's merely a confidence boost - and let's say, bragging rights! Around 300 players have started the game this year, although I can't be certain how many will be consistently picking throughout the year. There is both men's and women's classifications, with races of both in the calendar, and I will be playing both! For the women's my expectations are more reserved as I am not a deep expert. In the men's road racing side I like to consider myself as one (maybe?). The goal is clear, Number 1! No more no less, I want to finish in first position on the men's year-long standings and I won't settle with any other position.
Why?
It is a personal point. I have always found these games entertaining and both are in their own way. The Zweeler minigame allows me to just sit back and watch the points and standings changes happen throughout the year, whilst the FirstCycling forces me to stay sharp and knowledgeable on many details which I already naturally do throughout the year.
I want to put this knowledge built over the year to some use, and I want to finally commit to this in a way I have never, it's an urge that I've had for several years and I feel like this year all the pieces of the puzzle have fit together. Besides I have motivation on both games from the respective results that I ambition. Just imagine the bragging rights... the bragging rights!
Zweeler Team
As I've mentioned, in the Zweeler game you choose 25 riders at the start of the season. You have a limit of €365 million so as to spend on the riders. I've chosen the 25 riders below: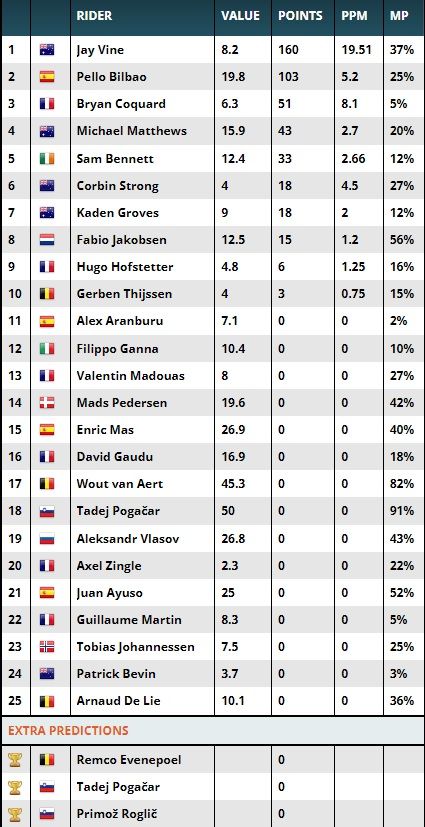 1st group - I tried to have some big hitters but in most part a team of small winners. 25 riders, of course it may have some highs and lows, riders that will disappoint, others that will surprise, etc... But I think I set up a good group. The two big hitters are Tadej Pogacar and Wout van Aert, who can perform very well on many different terrains and should provide high spikes of points. Naturally, all players will have big stars in their ranks, it was a must to have at least one or two, I find them the most reliable.
2nd group - From 30 to 15 points I tried assembling a list of riders who usually perform consistently throughout the year. For the GC group I've gathered Enric Mas, Aleksandr Vlasov, Juan Ayuso, Pello Bilbao and David Gaudu whom I expect a lot of GC results throughout the year. Mads Pedersen and Michael Matthews were my two other options, riders who can perform in the classics, but also in the hilly sprints. However in the flat sprints they will also be there, they were a must for me due to their versatility.
3rd group - In the third group, from 15 to 10 points, there were some very strong team leaders. Stage winners that is, 4 of them, and I had to capture these as wins throughout the season will provide good points. All reliable winners, you've got Fabio Jakobsen, Sam Bennett and Arnaud De Lie for the sprints and Filippo Ganna for the time-trials. In some classics I also expect some results from these men, who are around the lowest-cost proven winners.
4th group - An important block. Big leaders everyone will have, but around this section it is key to have riders who can bring meaningful points. Bryan Coquard, Kaden Groves and Alex Aranburu were my sprinters of choice, all of them versatile and capable of handling hilly classics. For the classics, Valentin Madouas, who should also be a good stage hunter throughout the year.
For GC points we've got Jay Vine, Guillaume Martin and Tobias Johannessen, with whom I seek to have consistent points being brought in from GC results throughout the year. Vine has proven this strategy effective from early on, Down Under.
5th group - In this final group, which is a must in order to have a strong block of true leaders at the top, it was necessary to have some planning. For a low cost, who are the riders with the best value? I've ended up going for a group of sprinters and puncheurs, who will often score points in the sprints and classics. You've got Gerben Thijssen, World Tour stage winner and a rider with a set leadout. Hugo Hofstetter, Corbin Strong and Patrick Bevin should be able to score throughout the season as they are all leaders and have strong sprint and versatility.
Finally there is Axel Zingle, the lowest-value rider in the team, who has had a breakthrough season last year and I expect good results from him, specially in the hilly classics and some breakaways throughout the year.
Tour Down Under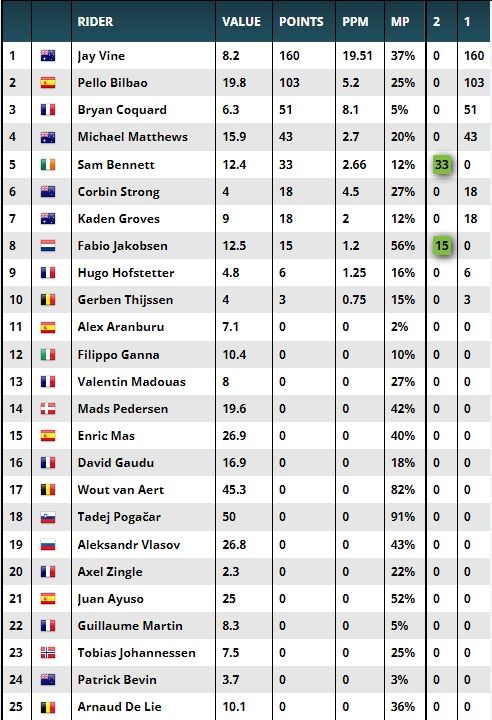 Position number 231 with Tour Down Under. It was a successful start, my last entry in the team was Jay Vine, as I was convinced he was in for a storming season after his success in the Australian TT nationals - a terrain where he had never proved himself. His victory brought in big points, Mr. Consistent Pello Bilbao brought more and the consistent performances of Bryan Coquard and Michael Matthews didn't disappoint. Patrick Bevin was the negative of the race, having crashed out and scored no points - but at the same times he's one of my lowest-point picks.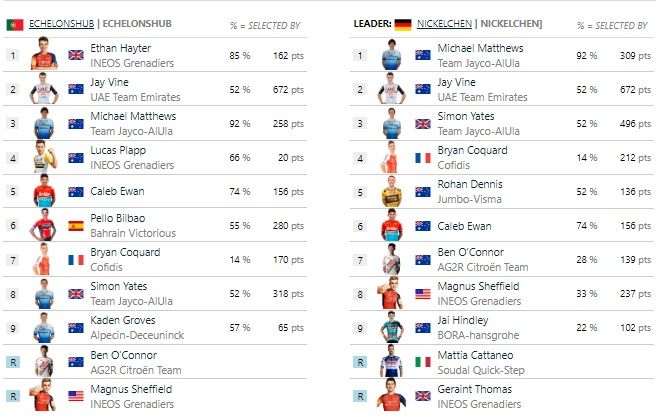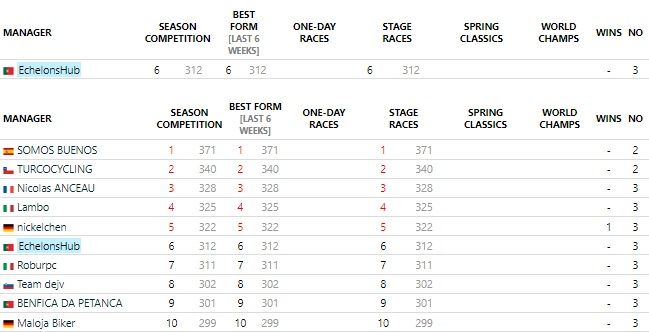 As for FirstCycling, the Tour Down Under saw me finish in 24th position. A team consisting of the riders I found best, looking back I have no regrets as I had full confidence in all riders. Luke Plapp didn't perform at his best, both O'Connor and Sheffield as reserves would've done better, but with Vine, Bilbao, Yates, Coquard, Ewan and Matthews all in the points were good.
A 15th place at the Vuelta a Tachira has seen me already rise to 6th in the season standings, close to the lead, where I will soon be hopefully. This is why consistency is so important. In the women's side I have finished 95th in the Tour Down Under.
How many updates will there be?
I don't have a certain number of updates planned, they will be posted as the season moves. Initially, I can set the bar of one update per month with updates on classifications, results on some of the races and thoughts on what has happened since the last update.
However they may come in inconsistent dates, as some periods of the calendar are very heavy, and some are a bit lighter. In the end what matters are the following: Finishing on the Top50 of the Zweeler minigame, and win the FirstCycling minigame.