Preview. Before the race reaches the Alps there is one more hilly day. Stage 12 of the Giro d'Italia will be a transition day for the riders, which should see an explosive start.
The 2022 Giro d'Italia saw an explosive and incredibly exciting stage into Torino, and a similar hilly day could be expected into Rivoli on the 12th stage which will feature some climbing, and a flat finale after a technical descent. Could this be a rest day for the GC riders ahead of a key day however? Most will have that in mind, others the stage win, and the breakaway stands very good chances.
Estimated start and finish times for Giro d'Italia stage 12: 12:30-17:15CET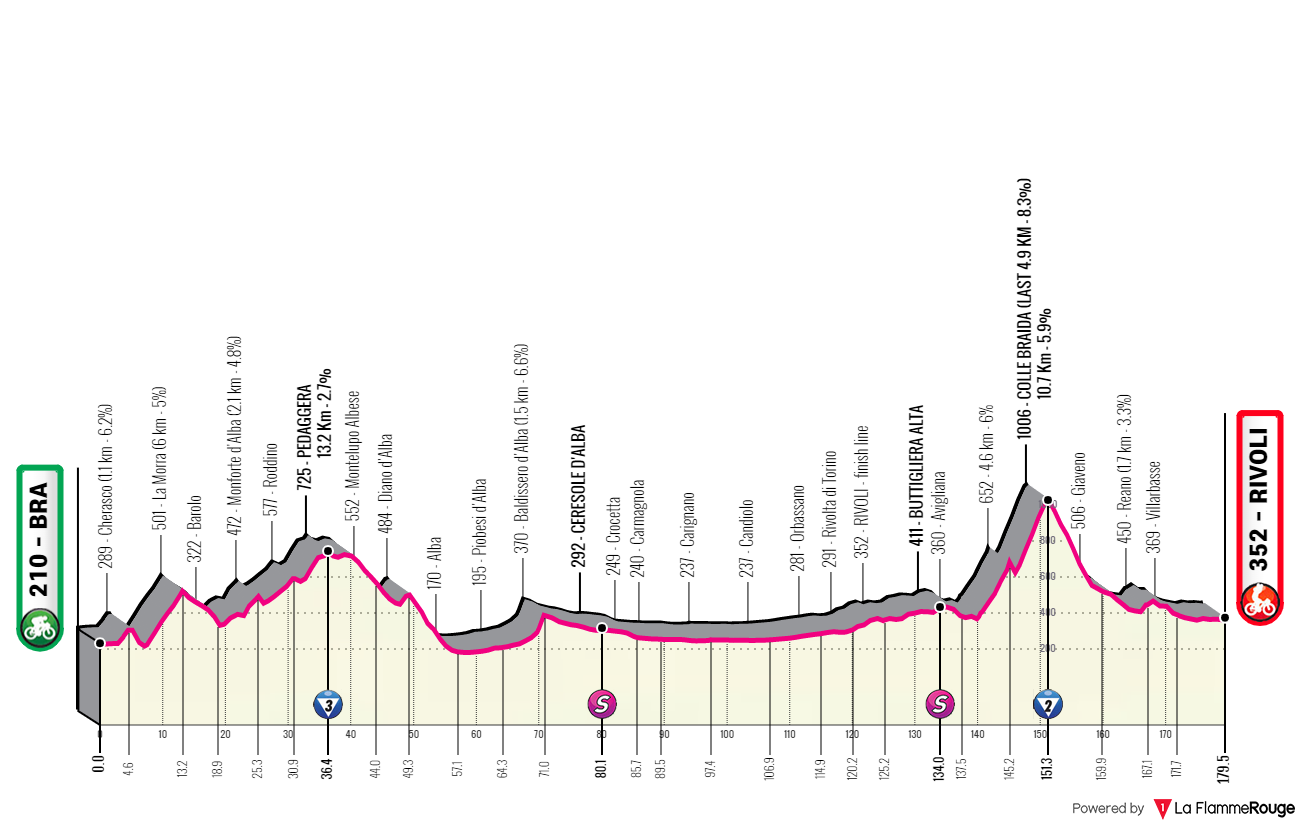 There will be three different climbs within the first 36 kilometers. It's a whole hour of racing, the peloton will need to let the breakaway go at some point. The tough climb later in the day will put off most sprinters from wanting to work, whilst the hard following day and distance to the finish will put off the climbers. A lot of the middle section of the day is flat without much to mention. The action comes back at the Colle Braida.
It's a second category ascent, 10.7 kilometers at 5.8% that summits with 28 kilometers to go. A climb of two halves, with a small descent in the middle that lowers the average. The final 4.5 kilometers are decently hard averaging around 8%. This could be an attacked ascent, but into context most will look to keep things compact. However the descent will be quite technical so with no doubt the pace will be high towards the summit.
The riders then travel back to Rivoli. A big group sprint isn't expected, inside the city the riders find a few corners before the finish line, but there isn't any key moment that could be pointed out. It'll be a simple finish for a transition day.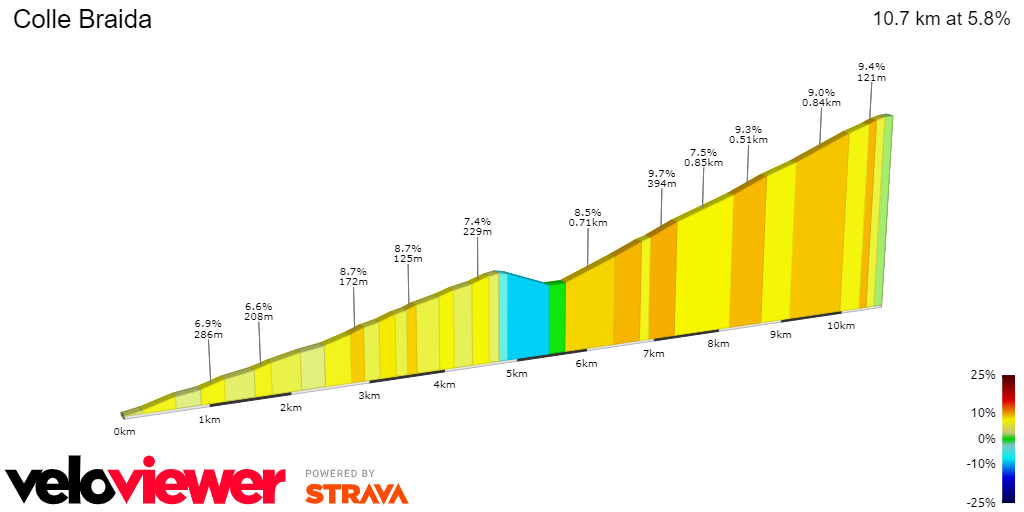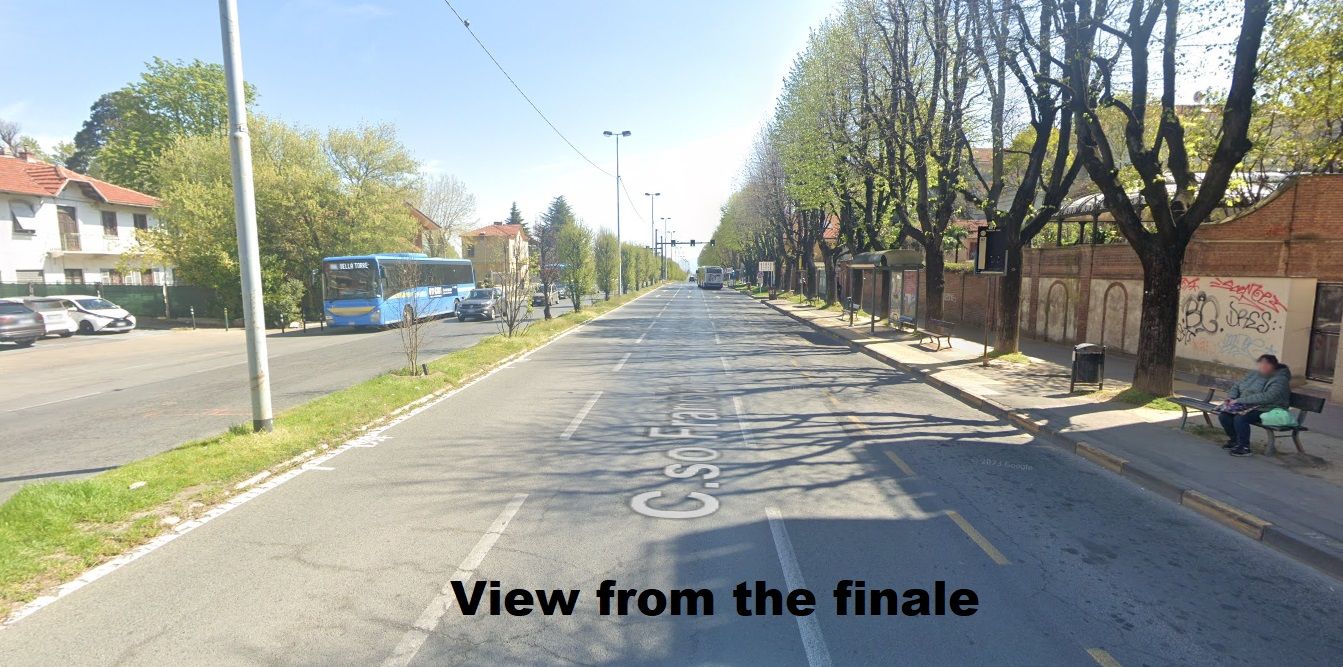 The Weather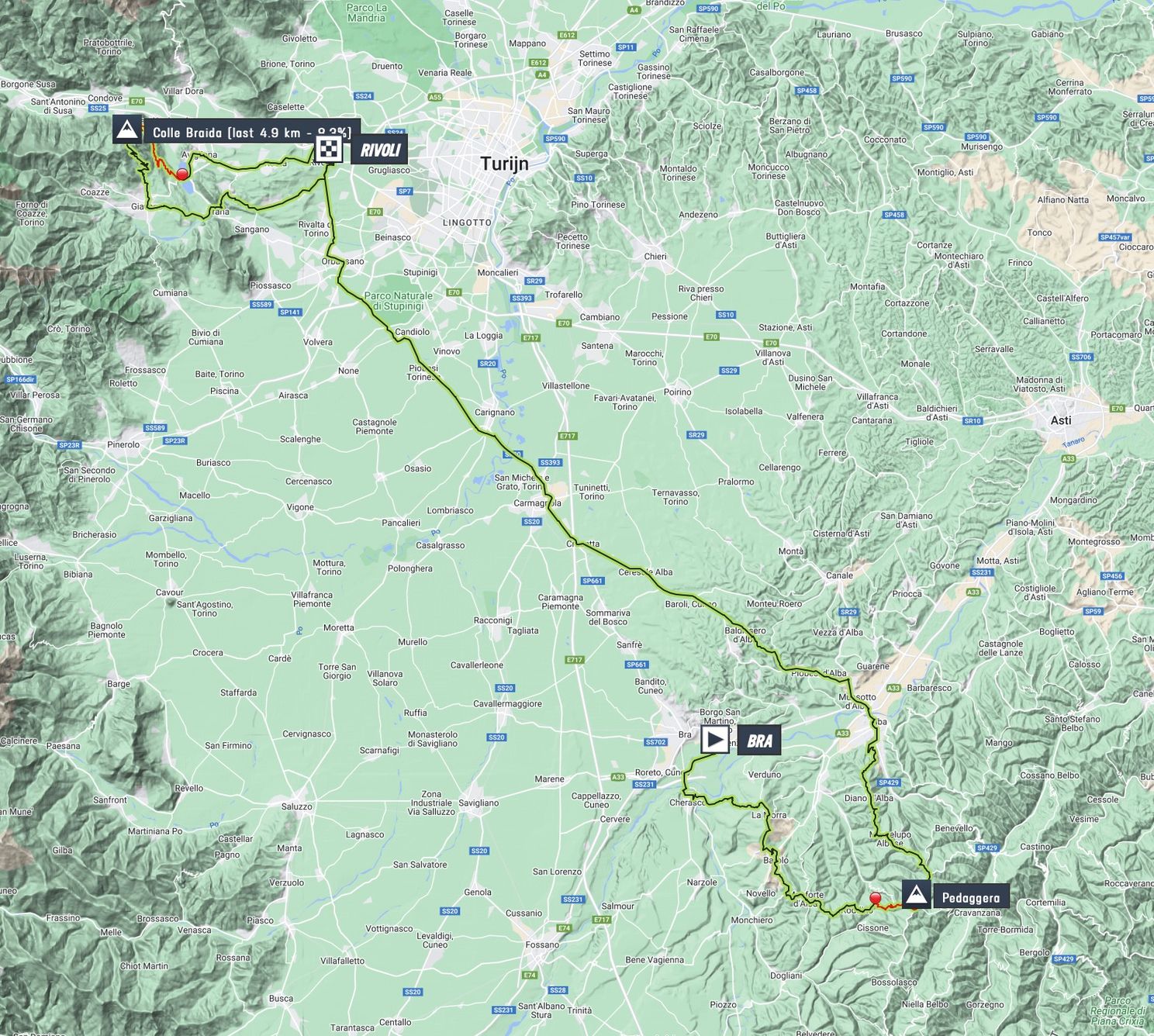 Grey skies, it will be however a day much less difficult weather wise than what the riders have faced this week. No rain, higher temperatures and only a small eastern breeze which shouldn't affect the day's outcome.
The Favourites
This is a day for a breakaway, there is no doubt. Why?
. Even though you have sprinters who can climb such as Michael Matthews and Mads Pedersen, both have won stages and it is too difficult of a day to control.
. The climbs are hard for most sprinters but too easy for GC riders. Besides it's the eve of a colossal mountain stage, climbers will go as easy as possible.
. The uphill start means that it would require a team to go all-out to at least prevent a strong group from going up the road. I see no team which should want or has a reason to do so.
. On stage 12, many teams are down to several riders and simply do not have the same amount of riders and energy to chase breakaways.
. Equally, opportunities for the breakaway riders are now few, and those who have not yet won - most riders - will feel more urgency to attack than what was the case in the opening week.
So there is no point in looking at the sprinters or climbers. It's a day for those far in the GC standings. I wouldn't be surprised if a few riders in the Top20 attack early in the day however, everyone will know this is a breakaway day and if they hope to climb some spots in the GC, some more modest riders can surely ride up the standings under the radar.
UAE have several cards. Jay Vine and Brandon McNulty are the strongest climbers with freedom, and in the field of the climbers the likes of Ilan van Wilder, Patrick Konrad, Lorenzo Fortunato and Carlos Verona will also eye an opportunity, even though it isn't in the mountains.
UAE have also plenty cards in Diego Ulissi, Davide Formolo and Alessandro Covi. Ben Healy, Bruno Armirail, Samuele Battistella and Will Barta will be rouleurs who can take opportunity of the favourable terrain, definitely good candidates to be in the winning move.
Other puncheurs who can fight for the win on such a day, under the right circumstances, include Christian Scaroni, Simone Velasco, Alberto Bettiol, Davide Bais, Lorenzo Rota, Alessandro De Marchi, Filippo Zana, Bauke Mollema and Toms Skujins.
As for those who pack a sprint and could be a danger towards the end you will also have some riders. Magnus Cort Nielsen and Michael Matthews for example who have already won stages in this race, Stefano Oldani who's in great form and won a similar stage last year, with Vincenzo Albanese and Filippo Fiorelli also giving good signs.
Not sprinters, but both Simon Clarke and Derek Gee of Israel have strong finishes and have shown themselves in good form.
Prediction Giro d'Italia 2023 stage 12:
*** Brandon McNulty, Patrick Konrad
** Jay Vine, Ilan van Wilder, Ben Healy, Alessandro De Marchi, Magnus Cort Nielsen
* Lorenzo Fortunato, Davide Formolo, Bruno Armirail, Samuele Battistella, Christian Scaroni, Filippo Zana, Michael Matthews, Stefano Oldani, Vincenzo Albanese, Derek Gee
Pick: Brandon McNulty