Preview. After a thrilling start to the Criterium du Dauphiné, stage 2 should provide another classics-like finale. It will be a hilly day with an uphill finish that is expected to be quite explosive.
Stage 2 sees another hilly day, most of it at around 1000 meters with a lot of rolling roads. It's another grueling day, without any serious climbing but packed with small ascents and rolling roads. A day for breakaways or classics riders to succeed, with the GC contenders also having to pay serious attention or even chase bonifications. The day sees climbing start early on, and then it follows a consistent pattern of small and big-ring ascents.
Estimated start and finish times for Criterium du Dauphiné stage 2: 12:40-16:25CET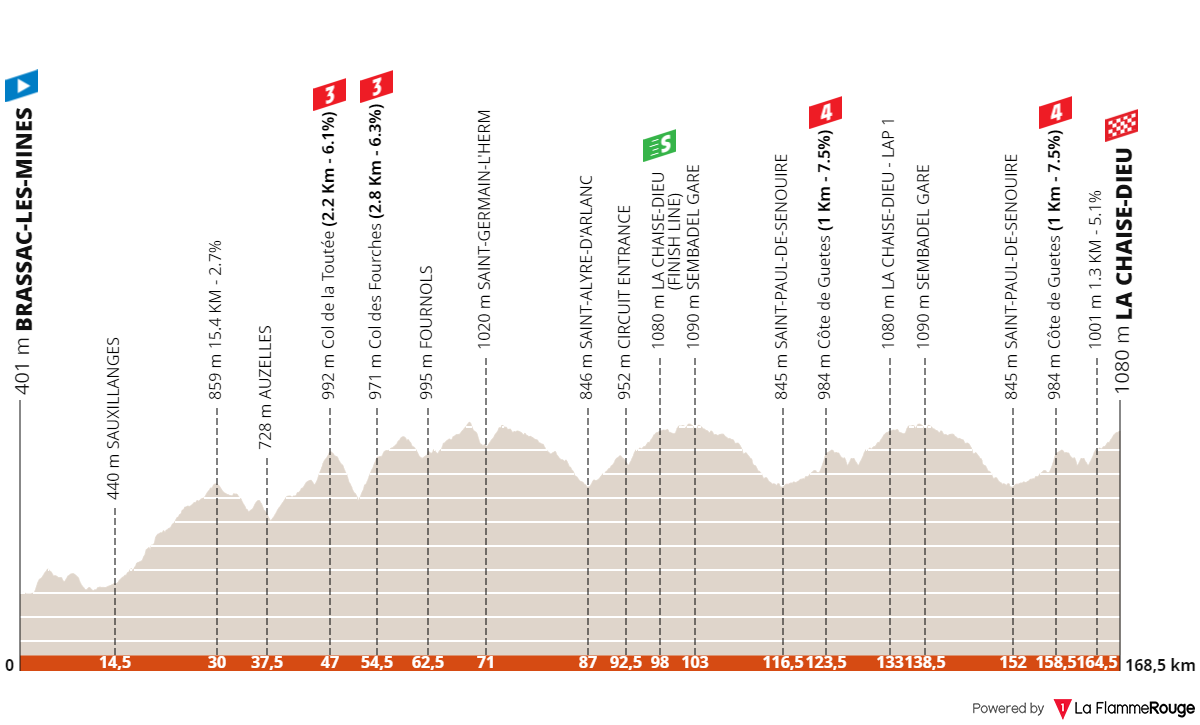 As is the case on the opening day, the finale also takes place in a hilly final circuit. This time around the final kilometers are uphill however. With 10.5 summits a 1Km climb at 7.5% which is categorized, a small descent then follows before the uphill drag into La Chaise-Dieu.
Although not categorized, it is a hilltop finish. 4.7 kilometers at 3%, hard enough to make some selection, but easy enough to see some fast men resist. It's an ascent with several restbite sections, but that also means the uphill sections are much steeper then the average, but 7% won't be scaring everyone. The final 500 meters flatten out, and this does favour those with the raw power when it comes to sprinting.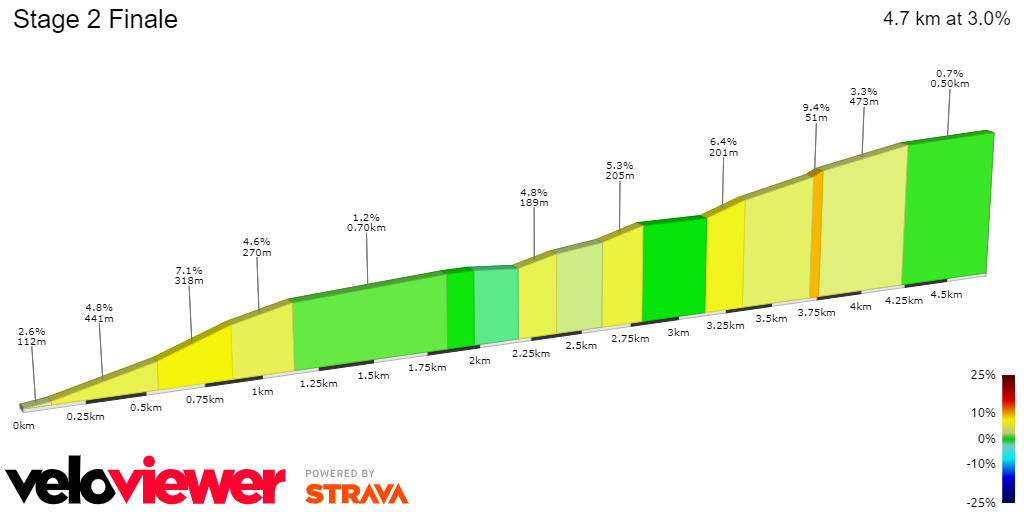 The Weather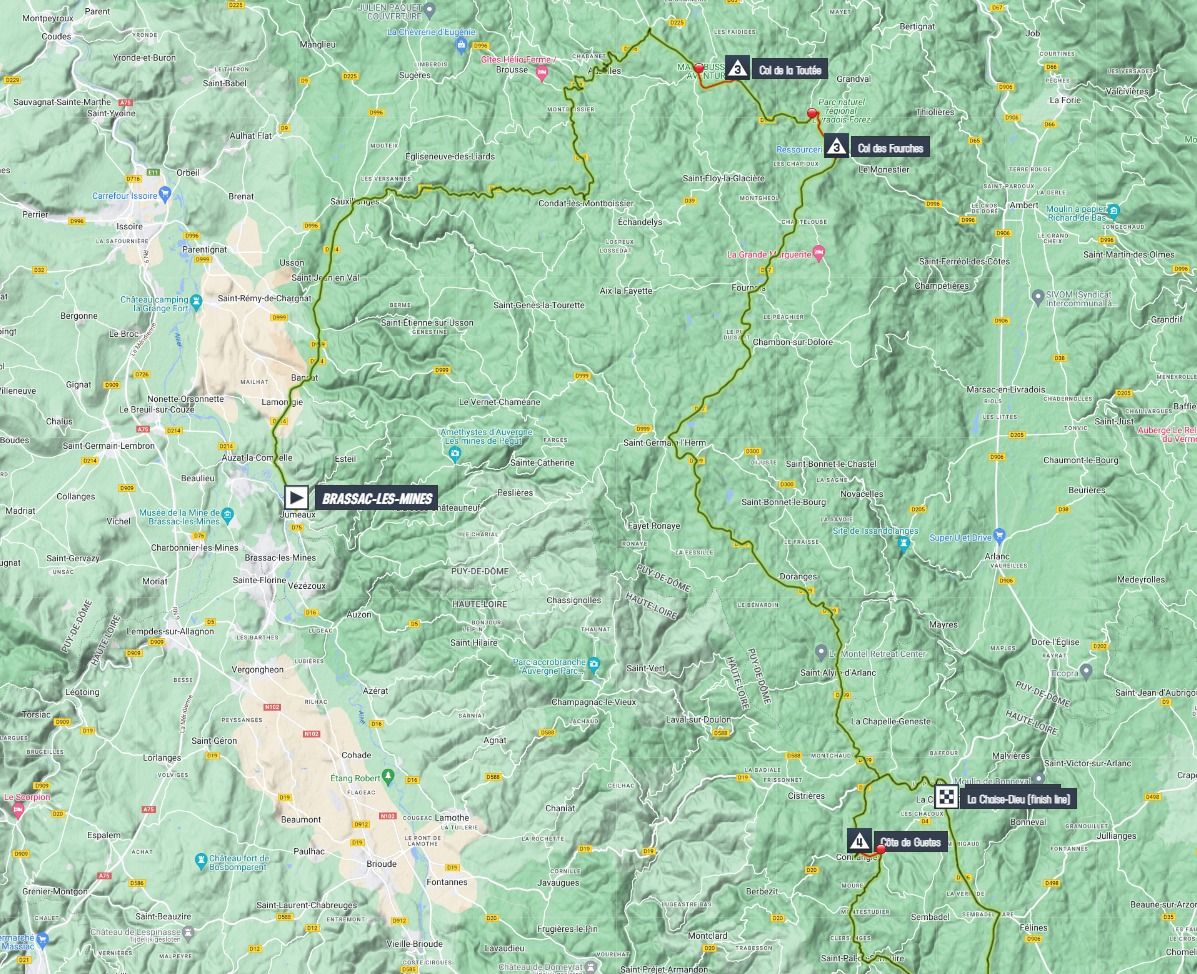 There could be wet roads again. Rain is possible but not certain throughout the afternoon, however today has seen quite a lot of rain, it can be tricky conditions but a day where the finale is far from the same danger.
The Favourites
Christophe Laporte - Laporte was the man to beat today, and he showed the legs that were expected of him. Someone who has great form without the need for racing, he clearly showed the climbing legs today and a very strong sprint. This is a more difficult finale, but simultaneously I think he has more he could have given. He'll be my main car once again.
Matteo Trentin - Trentin has over the years not shown his explosivity, however today he looked quite good. A puncheur now, he still has a fast finish, having been second to Laporte he could aim to win for the first time this year.
Julian Alaphilippe - The final few meters will be hard, but Soudal - Quick-Step have the chance to make the finale very hard with Andrea Bagioli. Alaphilippe can certainly attack, but if he has good form - which has not yet been discovered - a sprint could also see the Frenchman succeed.
A sprint ends up likely, the final climb will be a gradual rise of pace but on these gradients only with some luck or a brutal attack on the final kilometers can someone succeed. Axel Zingle looked quite good today, Maxim van Gils, Andrea Bagioli and Fred Wright were also among the finishers in the Top10 which could have - except for Wright - a more suiting finale. Tobias Johannessen and Greg van Avermaet could also make their way into the front.
The breakaway is much less likely to succeed on a day like this. Jumbo-Visma had a clear plan and made it work, this day will be easier to control. Even though some riders have lost time, there will be a few teams interested in a sprint or peloton finale. It will be a harder finale however. GC riders can attack but will most likely be directly covered. Some other in-form puncheurs/climbers could succeed in a finale like this such as Matteo Jorgenson, Robert Stannard, Clément Champoussin and Felix Grossschartner.
Prediction Criterium du Dauphiné 2023 stage 2:
*** Christophe Laporte, Matteo Trentin
** Axel Zingle, Julian Alaphilippe, Maxim van Gils
* Andrea Bagioli, Fred Wright, Tobias Johannessen, Richard Carapaz, Matteo Jorgenson, Giulio Ciccone
Pick: Christophe Laporte