Preview. The final sequence of mountain stages at the Giro d'Italia will start here, stage 18 will be a very hard day in the Alps, but perhaps an appetizer for the queen stage that will follow.
A tough mountain day. The final week of the race is brutal and there will be four difficult ascents on the day where differences can be created. This is the first of third gruesome racing days, however it may still be hard enough to influence the big riders to make moves and create differences for the overall classification.
Estimated start and finish times for Giro d'Italia stage 18: 12:20-17:15CET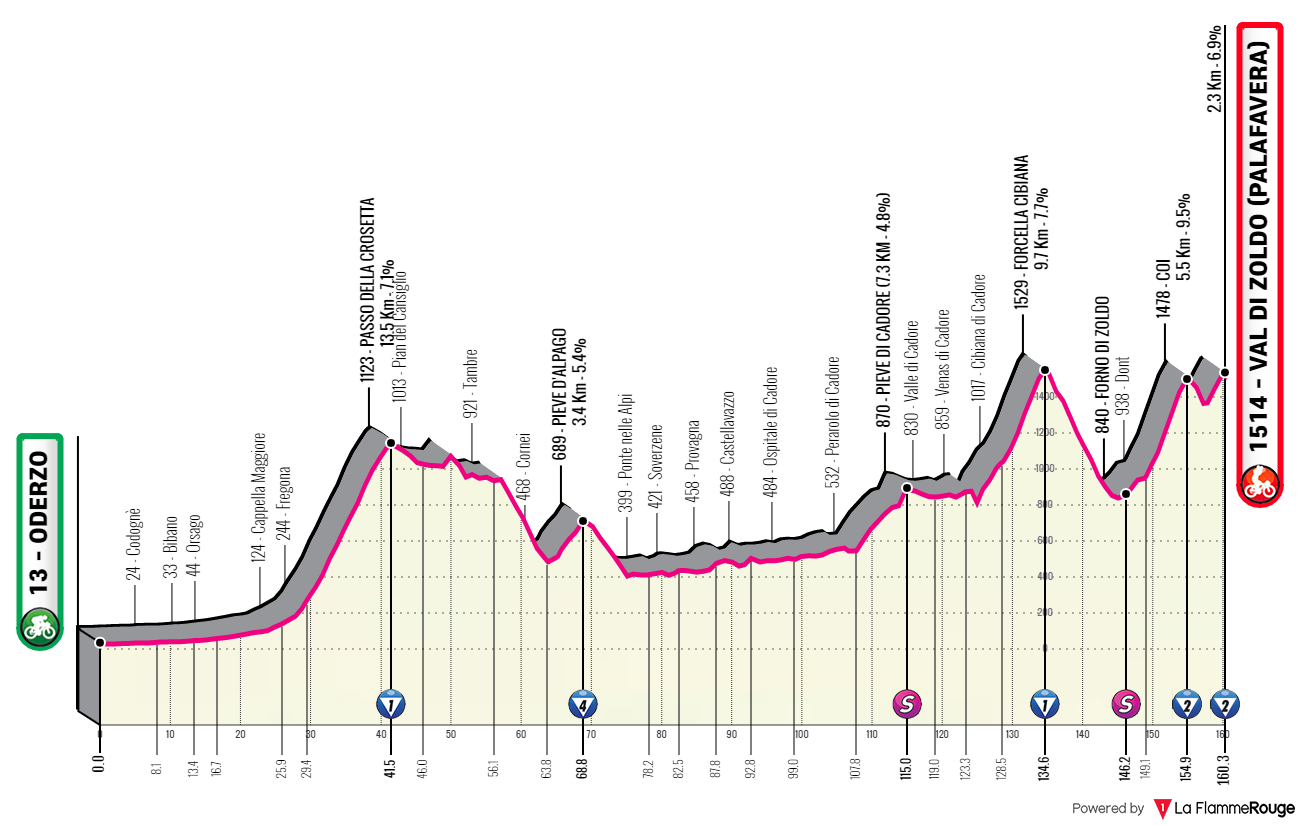 The start is pan-flat, but after 25 kilometers of racing this quickly changes. It is a tough reminder of which race the riders are taking part in, the first challenge of the day is the Passo della Crosetta which is 13.5 kilometers at 7%. A tough one with no real descent immediately afterwards. However the riders will then be able to relax a bit before the decisive hour of racing.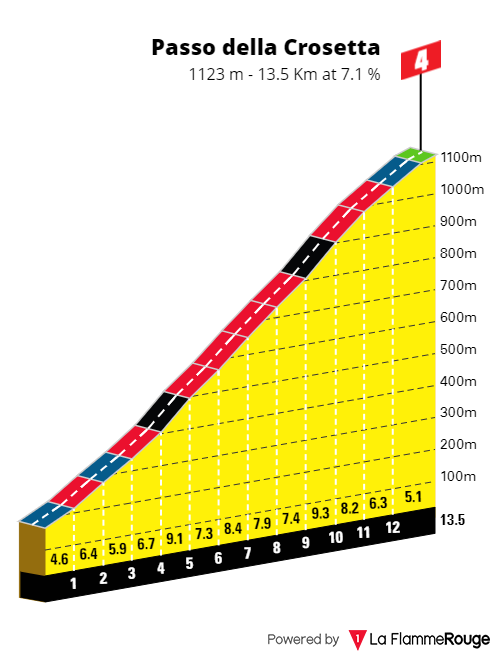 The stage isn't long and the finale will be tightly packed with tough climbing. The Forcella Cibiana will be 9.7 kilometers long at 7.7% however the ascent reaches quite steeper gradients. This comes to an end with only 26 kilometers to go, however it's not where the GC riders should put in their efforts.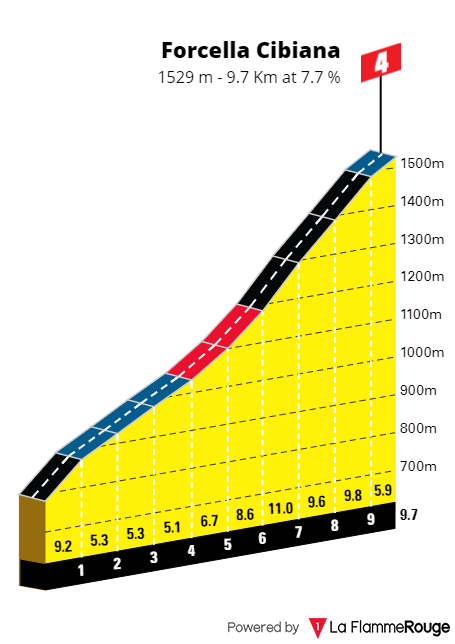 The climb to Coi is brutal and the main one of the day. It's 5.5 kilometers long at 9.5% and features tough ramps of up to 15%. It's a climb similar to Civiglio where Il Lombardia is usually decided, a suffocating steep climb filled with switchbacks. Even in a conservative pace this climb will make terrible damage in the GC group, and will in whichever scenario surely decide the outcome of the stage.
It's summit comes with a mere 5.4 kilometers to the finish. There is a very short and fast descent right after before the rise to the line. The final ascent is 2.3 kilometers have a 7% average gradient, it has 8 hairpins but it's not expected that at this point the riders are capable of putting on explosive moves.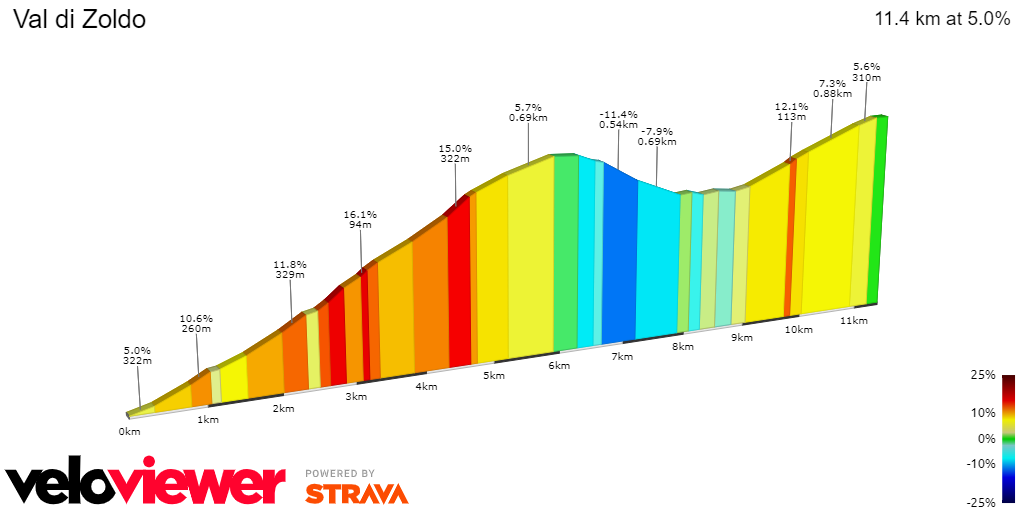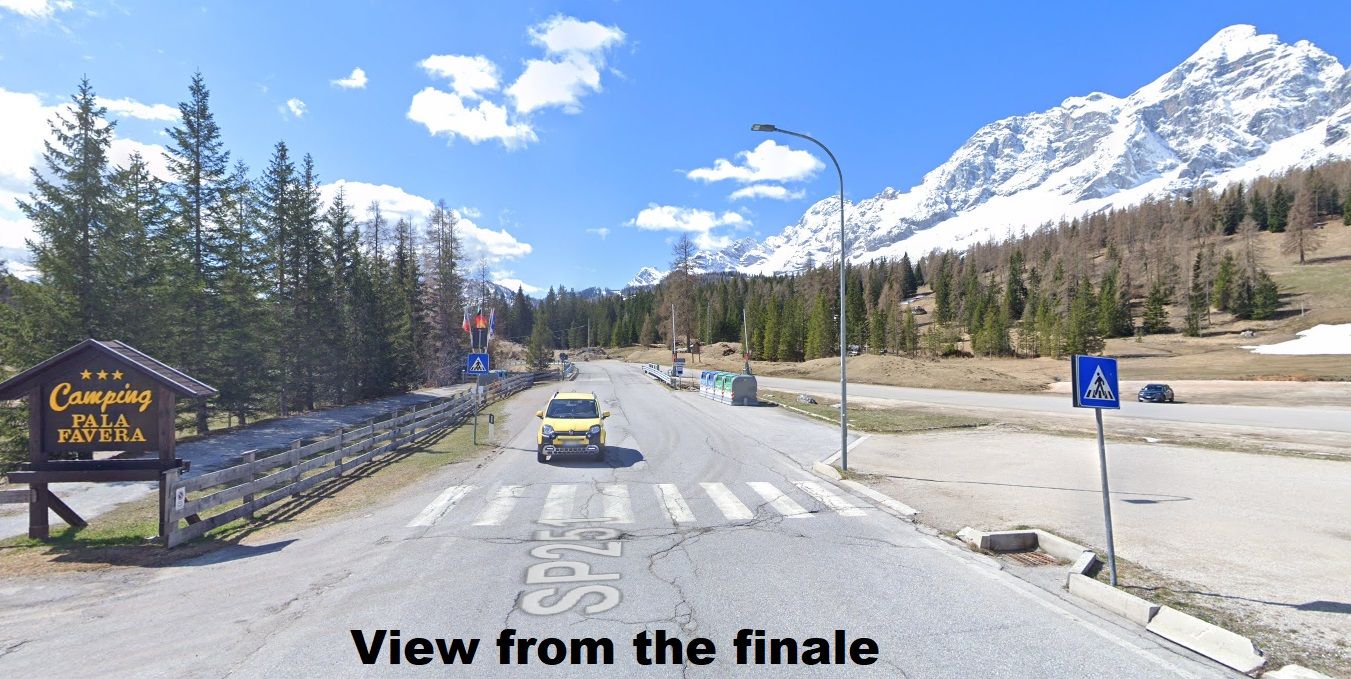 The Weather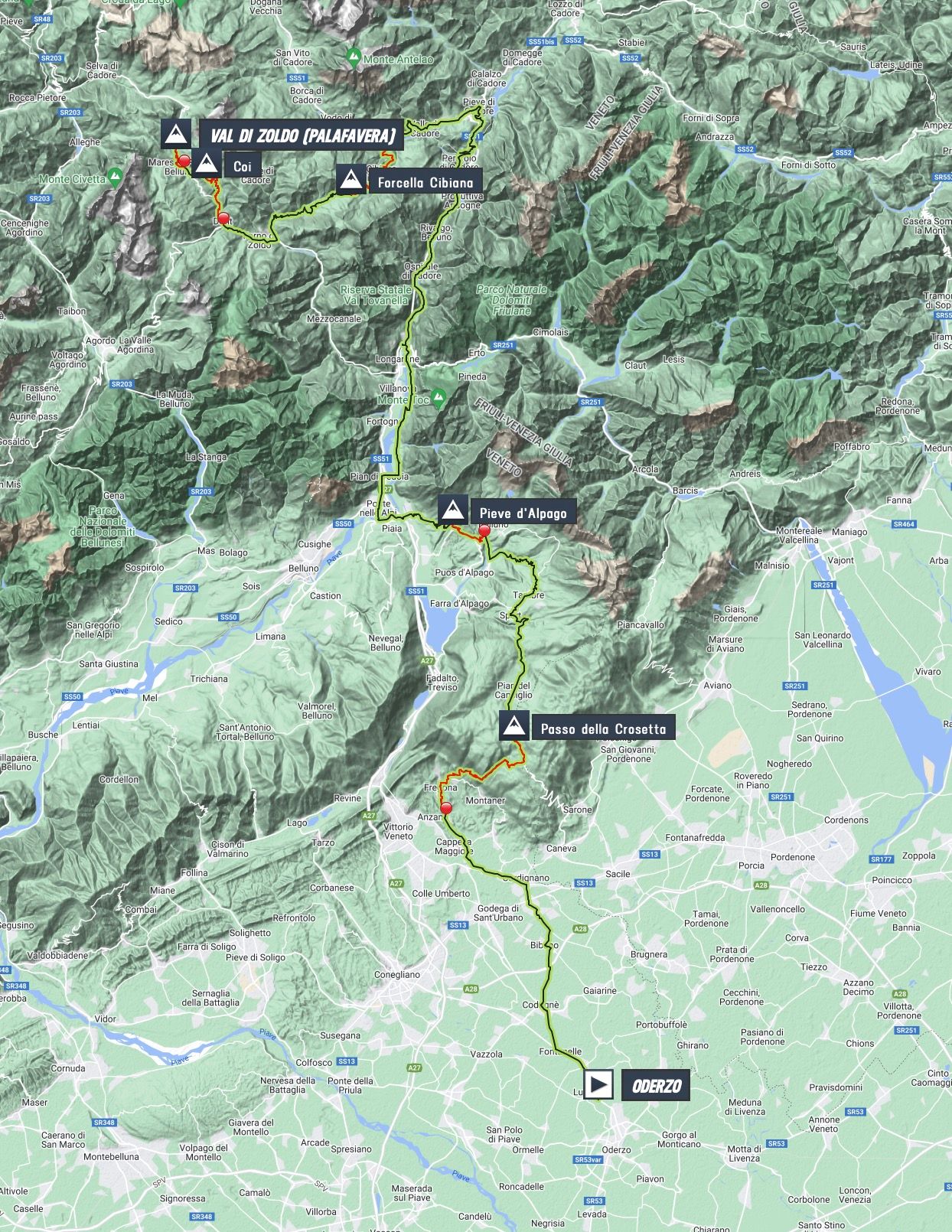 Small breeze from the southeast, it won't likely have an effect on the day however. As for rain, it's possible that little showers will take place throughout the day, but it'll very much come down to luck.
The Favourites
Geraint Thomas - Defend, defend, defend... INEOS had and have the numbers, but they have not once tried putting pressure on rival teams. That won't happen here, even if as in Monte Bondone neither Thymen Arensman or Laurens de Plus are useful for Thomas. The team ride as conservative as possible, and will try to keep the gaps as they are as Thomas looks consistent enough to keep pink on his shoulders.
Primoz Roglic - Jumbo won't likely try to control the stage as yesterday, but Roglic will be quite dangerous. In more explosive terrain I'd say it's unlikely he will be dropped this time around. Third with a big lead over fourth and with a rich palmarès, he won't be afraid to attack if he has the legs. The gap to the two riders ahead is still small, he will take this into consideration.
João Almeida - Almeida is a third week rider. I think there is danger, if he feels good he will attack, the steep ascent is hard enough that if riders attack they won't be giving much slipstream. Confidence will be high, and with the prospect of going into pink and with a strong UAE, for sure the team will look to attack once again.
The overall classification fight should continue, in fact I would more quickly expect attacks from these riders and not the podium contenders directly. Eddie Dunbar has been in great form and he should be able to take the advantage of the opportunity if he has the same good legs to take time on 4th place Damiano Caruso. Einer Rubio and Hugh Carthy may want to take the opportunity to finally crack into the Top10, whilst Lennard Kämna and Andreas Leknessund are likely to race more defensively.
For the breakaway we could see well placed GC riders to attack such as Ilan van Wilder, Santiago Buitrago and Thibaut Pinot. Outside of the main GC fight other climbers could try to go for the stage win such as Jack Haig, Lorenzo Fortunato, Filippo Zana, Ben Healy, Jefferson Cepeda, Carlos Verona and Jay Vine.
INEOS have only five riders, and I don't think neither UAE or Jumbo will commit to controlling the breakaway here. With a very hard climb early in the day and two brutal days ahead, I think there will be some conservative racing which can be taken advantage of by the breakaway hunters.
Prediction Giro d'Italia 2023 stage 18:
*** Ilan van Wilder, Filippo Zanna
** João Almeida, Geraint Thomas, Primoz Roglic, Santiago Buitrago
* Eddie Dunbar, Thibaut Pinot, Jack Haig, Loreno Fortunato, Jefferson Cepeda, Ben Healy, Jay Vine
Pick: Filippo Zana