In Hulst on the 27th of November the riders will take on their second Dutch World Cup of the year, it is round 7 in a race that will feature the likes of a returning Mathieu van der Poel and Tom Pidcock, whilst only one point separates cup leader Eli Iserbyt from Laurens Sweeck.
The race will take place by a little water area, and with rain falling this Saturday and also forecast of slight precipitation for the race day, it will not be a dry cross by any means. The start is relatively fast and flat, with a couple of tight corners and off-camber sections to string things out, however not hard enough to create real splits. There will be a short running section up a bank of the river, and an awkward uphill to grass wall after crossing the river the first time - a quite unusual feature.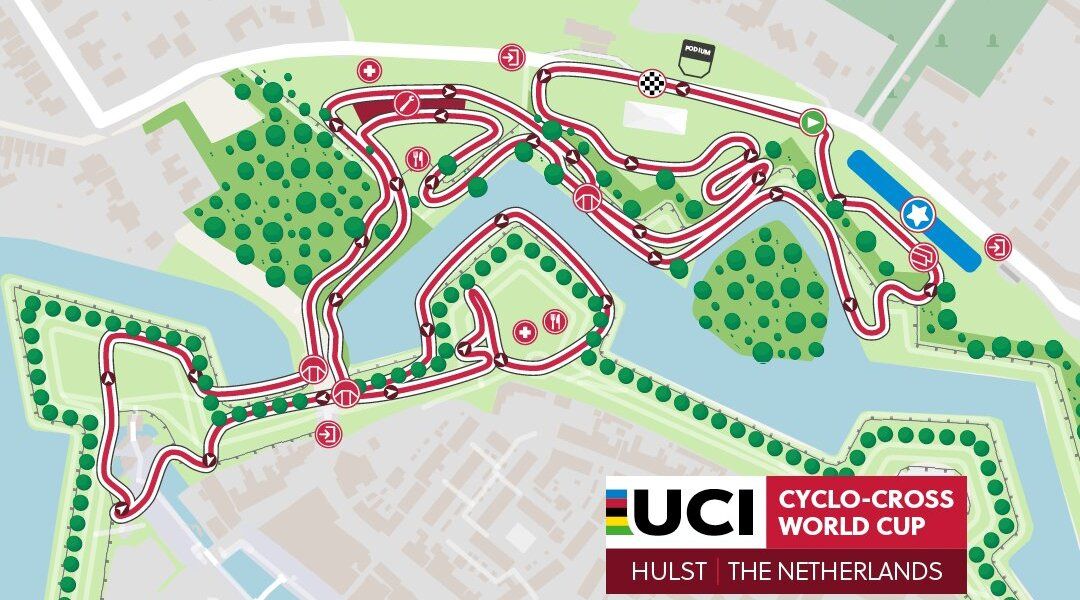 Likely the most difficult section of the course comes there, followed by several technical and explosive corners and a descent into the river where the terrain is relatively muddy. They will then face a very steep bank which requires a gruelling run, which can get slippery late in the day specially for the men's race - quickly followed by a climb up the stairs.
It doesn't get any easier afterwards however with some technical sections following, although after the second river crossing there can be a little restbite. and a less technically challenging finale - although it features the barriers - before crossing the finish line. A very difficult circuit in these conditions, form will be vital for the harsh running sections and many steep banks, many mistakes can be made throughout the race too which can be capitalized on.
In the women's race a very tight battle is expected. Fem van Empel, Puck Pieterse and Shirin van Anrooij have had very tight battles in Maasmechelen and Beekse Bergen, and Pieterse dominated Overijse in the mud, but with the other two completing the podium. This is more of a selective race, however I believe another tight battle is set to take place again, and I don't think anyone will be able to ride at the same level.
After riding into second today at Kortrijk I think Ceylin del Carmen Alvarado won't be as fresh to target the win, and the level has become very high for others to fight for the top step. Blanka Kata Vas, Lucinda Brand and Denise Betsema will be contenders for the podium spots however surely. Inge van der Heijden, Aniek van Alphen, Hélène Clauzel and Marie Schreiber will also be outsider for a Top5 result.
The biggest question for the men's race likely lies over Mathieu van der Poel. With a start far from the front, it won't be easy for the Dutchman to make his way through the field, in a circuit where it things will stretch a lot from very early on and it won't be easy to overtake. Being the first race of his season it will also be difficult for him to contest the win - however you can never say that! I think the win will lie between the seasoned pros and Tom Pidcock who's taken a big win today in Kortrijk, although he has circuits that suit him better. It will be a grind, Eli Iserbyt has looked good today and on paper can be a good candidate for the win in Hulst but lately he has not been consistent and faces further presssure from Laurens Sweeck, who could be a big candidate to take a third World Cup win.
Overijse winner Michael Vanthourenhout will also be an important card, and of course Lars van der Haar is expected to be a big hitter, and likely someone who will enjoy such a fierce course with his current form. The likes of Niels Vandeputte and Felipe Orts could enjoy such a technical race, but the field behind will be very even. Joris Nieuwenhuis, Pim Ronhaar, Ryan Kamp, Jens Adams, Toon Vandebosch and Kevin Kuhn will all be within range.
The women's race will start at 11:00 local time (11:00CET) and is estimated to finish at 11:50 local time (11:50CET). The men's race is set to start at 12:15 local time (12:15CET) and is estimated to finish at around 13:20 local time (13:20).
You can watch the broadcast of the race at the UCI website; GCN+/Eurosport Player internationally. The channels which will broadcast the race will be Flobikes (Canada/USA), Sporza and Proximus (Belgium), , L'ÉquipeTV (France), Ceská televize (Czech Republic), NOS.nl (Netherlands), TV2 Danmark (Denmark) and TV2 Norge (Norway).
PREDICTIONS:
Women's Elite
*** Puck Pieterse
** Fem van Empel, Shirin van Anrooij
* Blanka Kata Vas, Ceylin del Carmen Alvarado, Denise Betsema
Men's Elite
*** Tom Pidcock
** Laurens Sweeck, Mathieu van der Poel
* Lars van der Haar, Eli Iserbyt, Michael Vanthourenhout