On the 4th of December the cyclocross field will race the 8th World Cup race of the year marking the halfway point. It will be in Antwerp, Belgium, that that will take place, and it will be a day marked by the return of Wout van Aert, with Mathieu van der Poel and Tom Pidcock also present.
With no rain the course in Antwerp will be drier than the most of the latest races. The start features a long flat section but quickly the riders find themselves in steep and tight bank areas, with the barriers also placed close to the start. It will be a course by a large body of water, there will be pockets of sand throughout the course mostly felt in this second third of the track which also features a long straight section.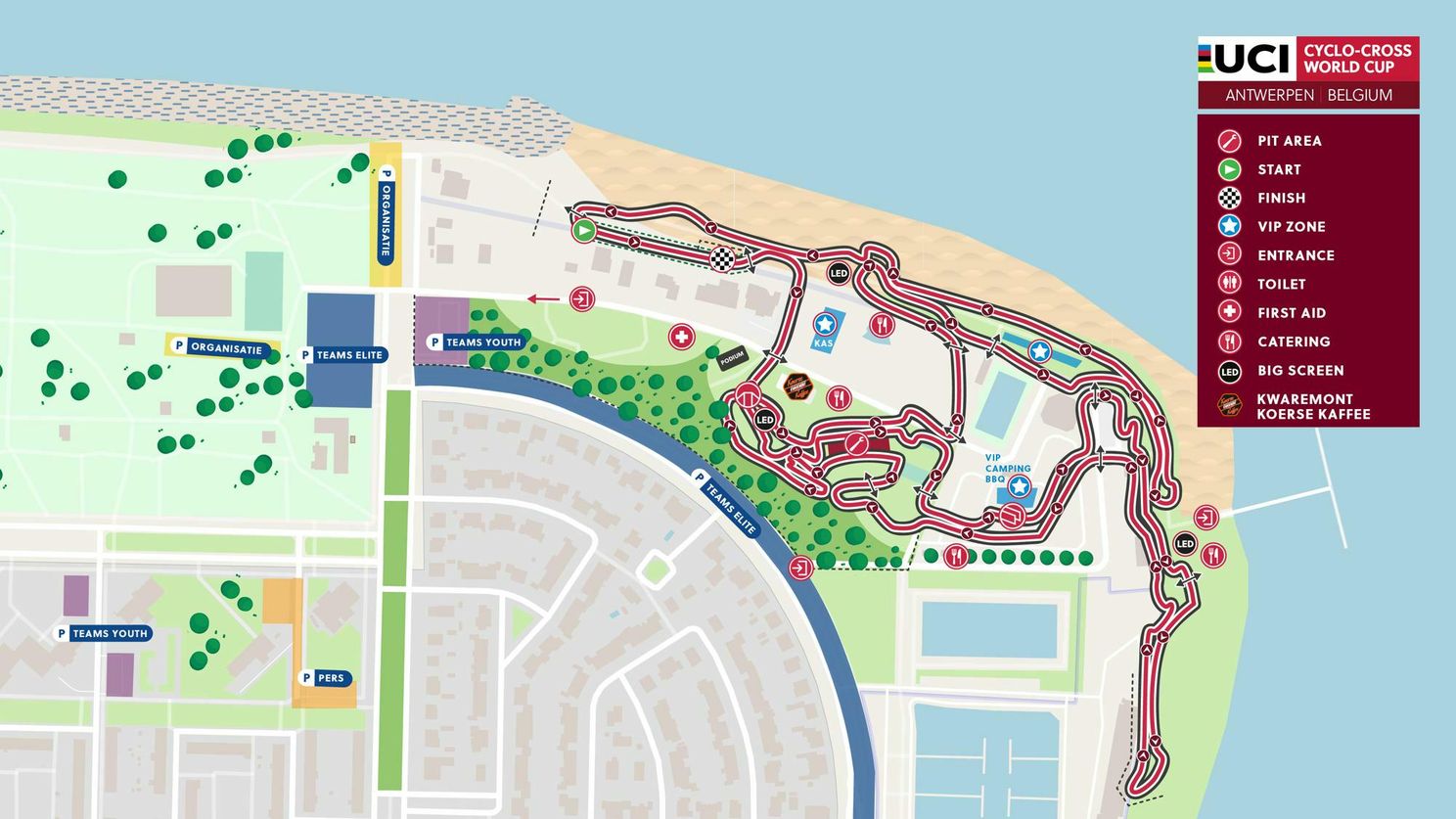 Although it doesn't seem as if any of the sand sections will force the riders to run, they will be tricky around this middle part, and the final half of the bank also features a stairs section which will require some effort.
The latter part of the lap does feature again some flat rest areas but three sand pits where running is expected. This will no doubt be the critical part of the track. It is one where there are some rest areas, but the very tough sandy sections can carve major gaps as mistakes are expected throughout the race. It's one where gaps are likely to appear from early on, despite lacking the climbs, it will make for an exciting day of racing.
The women's field has got an interesting set of battles cooking up as Fem van Empel no longer has the dominant form of earlier in the season. Although she has worked her way through the cups, individually speaking she is not a prime contender to win in Antwerp mostly as Puck Pieterse has been showing tremendous technical skills and has taken strong wins recently.
The race could perhaps be very balanced actually, as both Shirin van Anrooij and Ceylin del Carmen Alvarado who've shown great form in the last few weeks struggled today in Boom, as Denise Betsema put in a great performance and Aniek van Alphen shocked to a brilliant win. All of them will be contenders for the podium, or even more. Besides there will be the presence of an ever-improving Lucinda Brand after her injury. Blanka Kata Vas, Inge van der Heijden alongside youngster Line Burquier and Marie Schreiber will be interesting riders to follow.
A great battle is expected. You have Tom Pidcock, today's winner in Boom and in great form but on a track without virtually any climbs or descents where he can make difference. Then Mathieu van der Poel who returned brilliantly in Hulst last week, and despite looking better towards the end, questions over his physical shape will be asked due to today's crash. And then Wout van Aert, who dominated his debut race last year, but talks of little pressure and comes from a delayed start due to form.
I believe the win will be between those three, however on a track like this there is space for surprise. The running won't favour the still injured Eli Iserbyt, Lars van der Haar should also race strongly I believe and in such a sandy track Laurens Sweeck could thrive - although he was not at his best today in Boom. Michael Vanthourenhout will be another outsider for the podium. Jens Adams, Niels Vandeputte, Ryan Kamp, Toon Vandebosch, Thibau Nys, Kevin Kuhn and Felipe Orts will all be contenders to fill in the Top10, Jente Michels could be a nice surprise aswell.
The women's race will start at 12:30 local time (12:30CET) and is estimated to finish at 13:20 local time (13:20CET). The men's race is set to start at 14:00 local time (14:00CET) and is estimated to finish at around 15:08 local time (15:05).
You can watch the broadcast of the race at the UCI website; GCN+/Eurosport Player internationally. The channels which will broadcast the race will be Flobikes (Canada/USA), Sporza and Proximus (Belgium), , L'ÉquipeTV (France), Ceská televize (Czech Republic), TV2 Danmark (Denmark) and TV2 Norge (Norway).
PREDICTIONS:
Women's Elite
*** Puck Pieterse
** Fem van Empel, Aniek van Alphen
* Shirin van Anrooij, Ceylin del Carmen Alvarado, Denise Betsema
Men's Elite
*** Mathieu van der Poel
** Wout van Aert, Tom Pidcock
* Laurens Sweeck, Lars van der Haar, Eli Iserbyt