The Cyclocross World Championships will take place in the Netherlands in 2023, with the circuit of Hoogerheide hosting what is the climax of the off-road season, with Mathieu van der Poel and Wout van Aert set to battle for the main event.
In this article you will find the official startlist and race numbers for all the six events that will take place over the weekend: Men Elite, Women Elite, Men Under-23, Women Under-23, Men Junior and Women Junior.
Click here to create your own team for the Fantasy Cyclocross World Championships Men. At least $1,635/€1,500/£1,325 in prizes!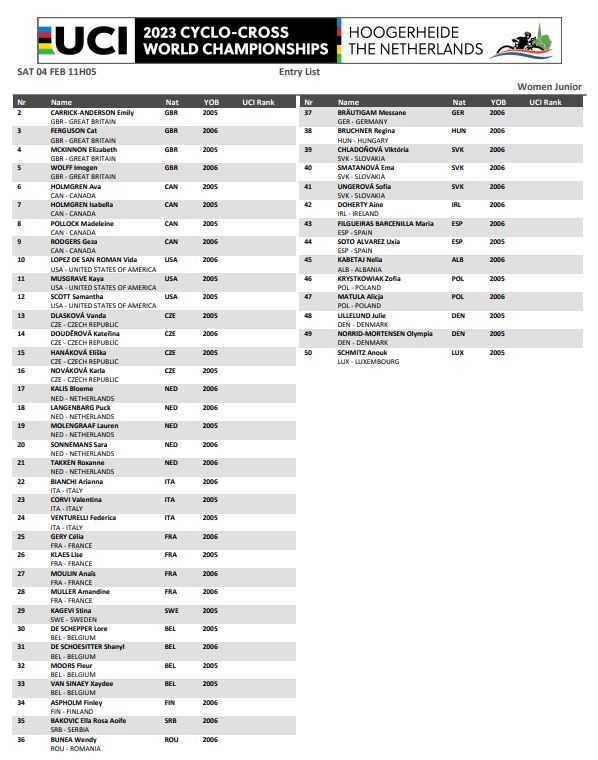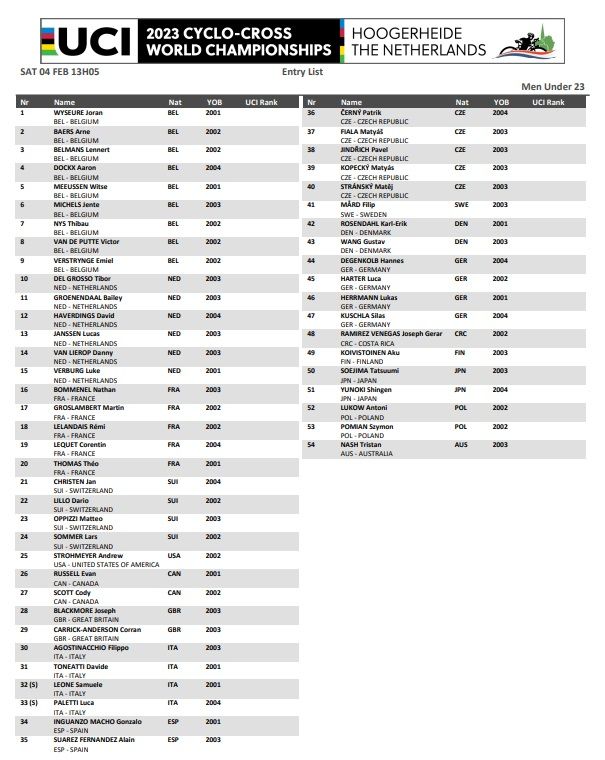 The men's under-23 event will see a battle between the likes of Joran Wyseure, Thibau Nys, Witse Meeussen, Jente Michels, Emiel Verstrynge, Tibor Del Grosso and David Haverdings.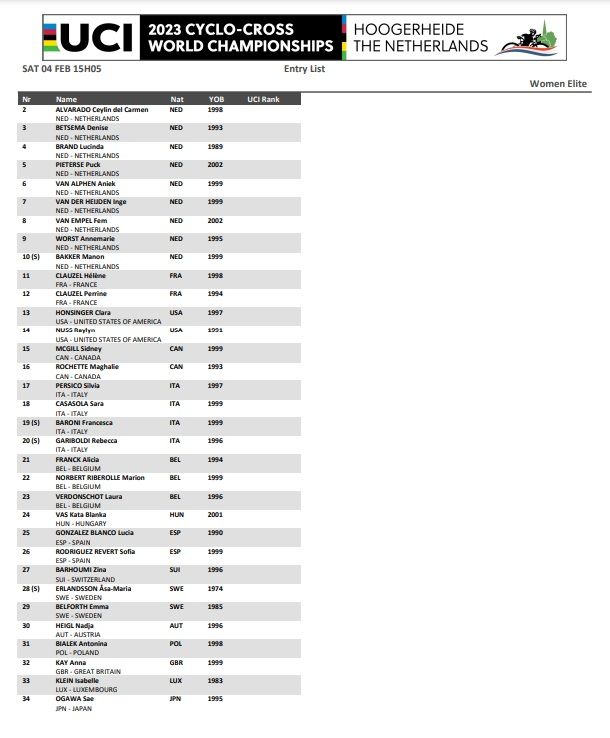 The Women Elite will lack some of it's possible contenders such as Shirin van Anrooij and Marianne Vos, the latter due to health issues and lack of form over the last few weeks. Nevertheless, it is expected that there will be a battle between Elite and under-23 European Champions Fem van Empel and Puck Pieterse, with the likes of Lucinfda Brand and Ceylin del Carmen Alvarado within a shot of gold aswell.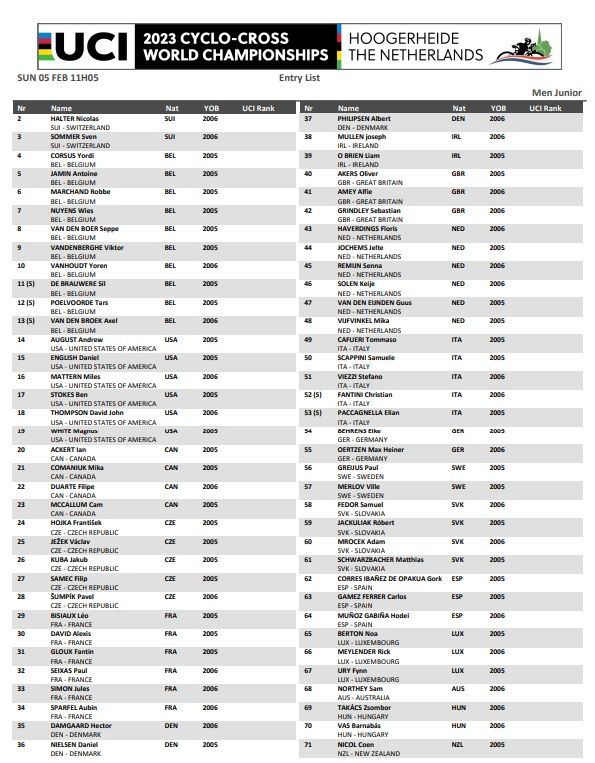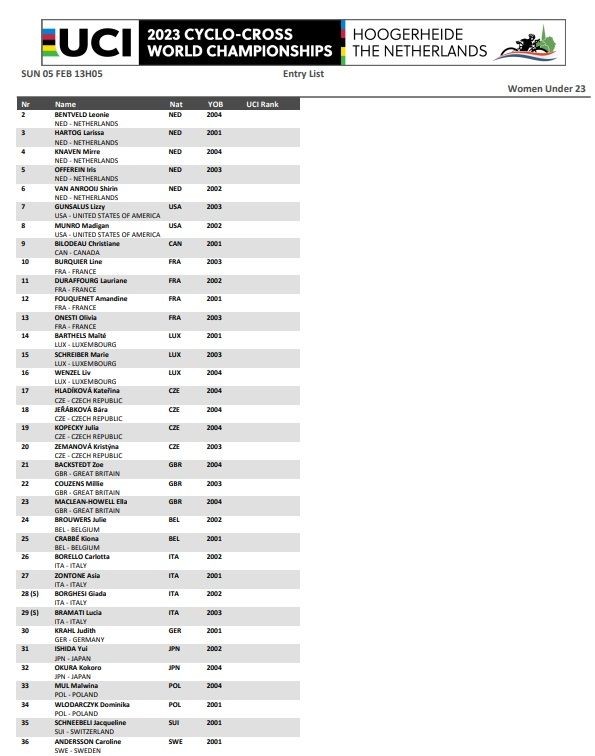 The women's under-23 field will have a clear contender which is Shirin van Anrooij, who has won multiple of the biggest races this season at Elite level. Nevertheless the field includes very strong contenders such as Zoe Bäckstedt, Line Burquier, Marie Schreiber and Kristyna Zemanova.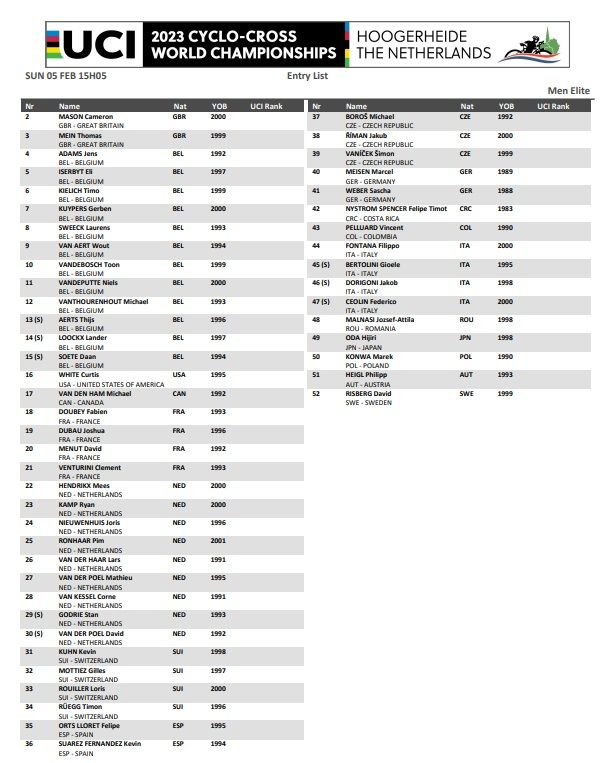 The men's Elite race will feature all of the main contenders except for reigning World Champion Tom Pidcock. Mathieu van der Poel and Wout van Aert are expected to batte for the rainbow stripes whilst the likes of Eli Iserbyt, Laurens Sweeck, Michael Vanthourenhout and Lars van der Haar are expected to battle for the remaining medal(s).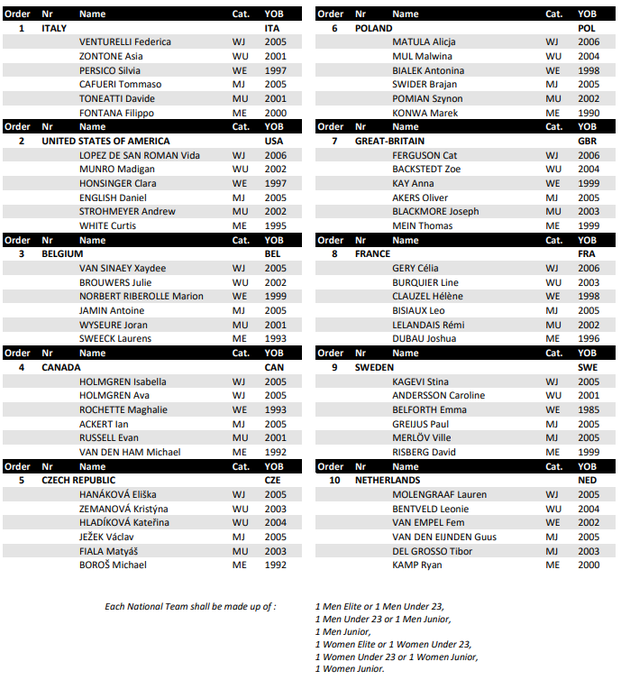 The event will also feature a Mixed Relay, with 6 riders of each nation that decided to participate - 3 men and 3 women - each racing a full lap of the circuit. The likes of Laurens Sweeck, Fem van Empel, Zoe Bäckstedt and Silvia Persico will all be present for their respective teams.