After a superb battle in 2022, Aleksandr Vlasov beat Remco Evenepoel for the victory at the Volta a Comunitat Valenciana. In 2023 the race returns with five hilly and mountainous stages running from the 1st to 5th of February.
Unlike past years, the race organizers have decided to not insert real stages and attract the sprinters. As the calendar becomes more and more packed early in the year, the organizers have decided to build a race that is attractive to the climbers and puncheurs who are looking to test their form ahead of the spring.
The opening stage will take place from Orihuela to Altea over 189 kilometers. Perhaps the stage that is more leading towards a sprint, there will be an 8.5-kilometer long climb at 4.3% that summits with 35 kilometers to go. The finale is very tricky however and won't be easy to control.
Stage two could be crucial in the race. The summit finish at Alto de Pinos is suited to the puncheurs but differences will be made in a very hilly day. The final climb is 3.2 kilometers long at 7.2% and it will open up the GC fight for the week, and test out the early-season form of many of the climbers.
Stage three takes place from Bétera to Sagunto and it somewhat avoids the rompe-piernas terrain. However the riders will have no easy task as they face the Puerto del Garbí which summits with 29 kilometer to go, featuring 8.6 kilometers at 5.5% but gradients that go up over 11% for 2.3 kilometers. From there on it's a mostly descending route into the finish, but the GC may be turned on it's head.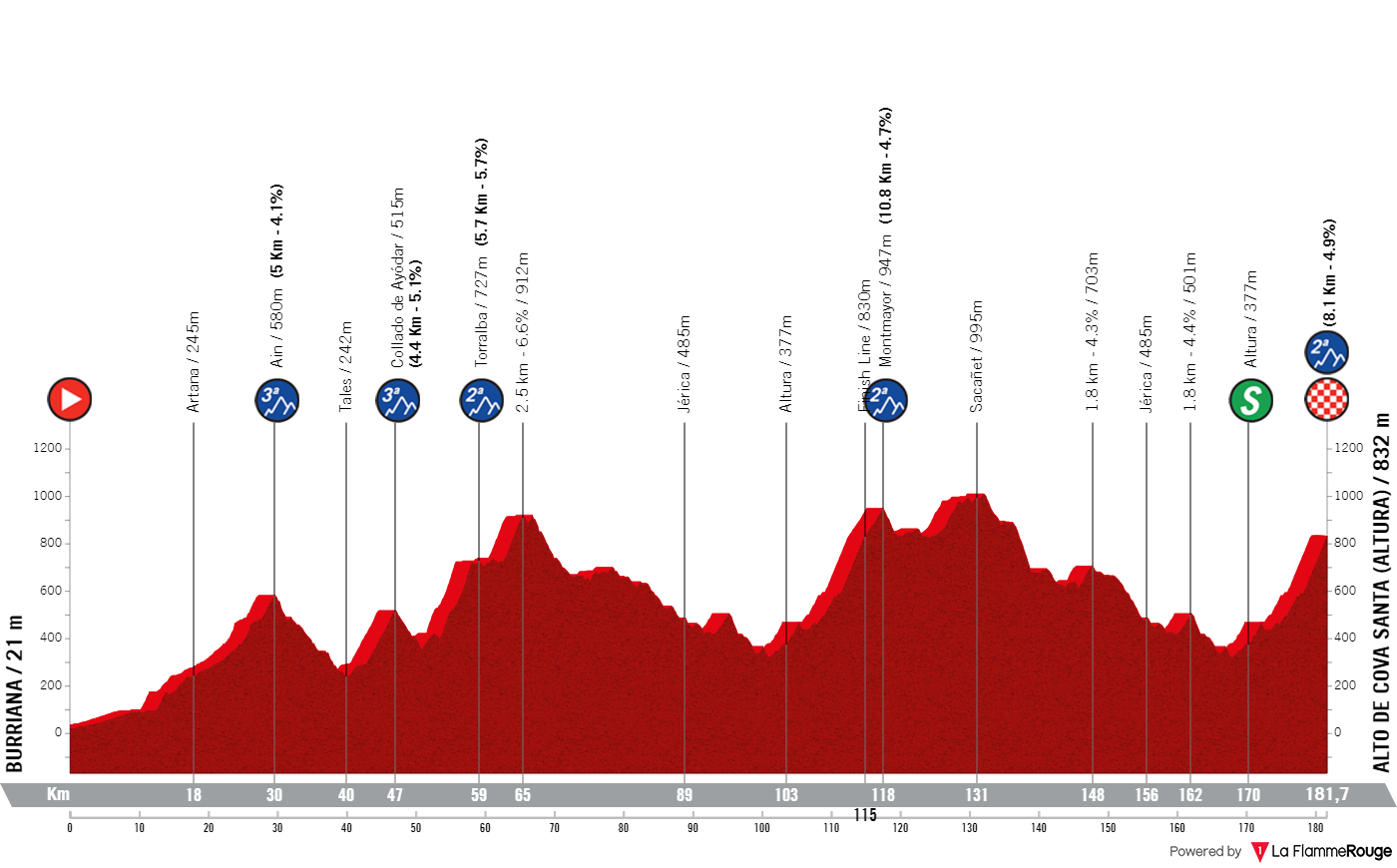 The queen stage. Stage four of the race will see over 3500 meters of climbing which will be evenly spread throughout the whole day. The race may be decided on the slopes of the Alto de la Cueva Santa where the stage will finish, it won't be an overly hard climb but the GC could be virtually closed at the end of the day. It features 8.1 kilometers at 4.9%.
The final stage of the race is only 93 kilometers long but will have an interesting profile. A very tricky day to predict. 7Km at 4% and 5.2Km at 9% will make for a pretty difficult challenge in the first half of the day, where a strong breakaway or even GC attacks may take place. The riders will then have a pan flat run-in to Valencia to end the race on a high.