On the 3rd of October the peloton travels to Germany for the Sparkassen Münsterland Giro, a classic suited for the sprinters which gives them opportunity to thrive and win late in the season, with many big names present.
The following will be at the start line: Fabio Jakobsen, Ethan Vernon, Sam Bennett, Jordi Meeus, Max Walscheid, Giacomo Nizzolo, Itamar Einhorn, Olav Kooij, Dylan Groenewegen, Sam Welsford, Pascal Ackermann, Jasper Philipsen and Soren Waerenskjold.
Click here to download, and print, the startlist with BiB number!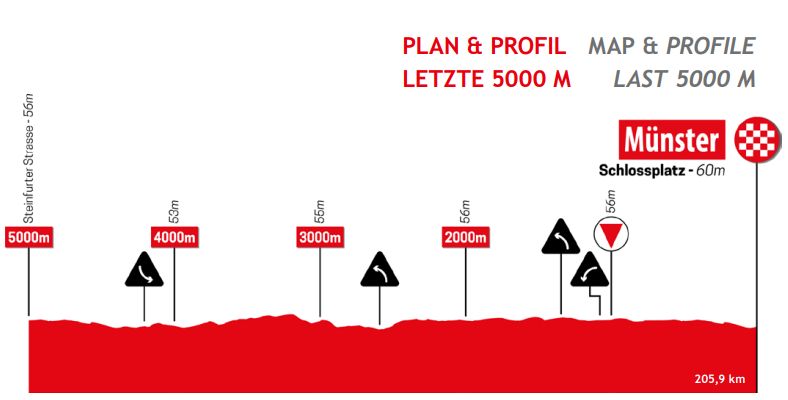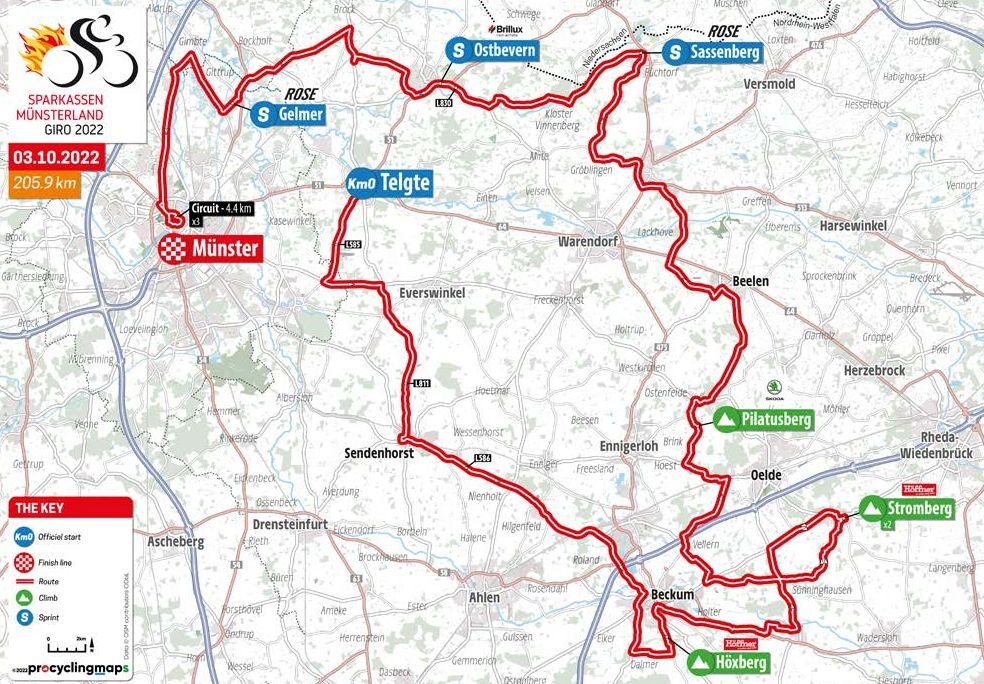 Quick-Step Alpha Vinyl Team
1 Jakobsen, Fabio
2 Cerný, Josef
3 Stybar, Zdenek
4 Mørkøv, Michael
5 Vernon, Ethan
6 Steimle, Jannik
7 Lerberghe, Bert Van
Bora - Hansgrohe
11 Bennett, Sam
12 Archbold, Shane
13 Gamper, Patrick
14 Laas, Martin
15 Meeus, Jordi
16 Politt, Nils
17 Schelling, Ide
Cofidis
21 Walscheid, Max
22 Allegaert, Piet
23 Carvalho, André
24 Kolze Changizi, Sebastian
25 Kreder, Wesley
26 Sajnok, Szymon
Israel - Premier Tech
31 Nizzolo, Giacomo
32 Biermans, Jenthe
33 Dowsett, Alex
34 Einhorn, Itamar
35 Kogut, Oded
36 Pickrell, Riley
37 Zabel, Rick
Jumbo - Visma
41 Kooij, Olav
42 Affini, Edoardo
44 Hessmann, Michel
45 Sande, Tosh Van der
47 Dijke, Tim van
Lotto Soudal
52 Drizners, Jarrad
53 Frison, Frederik
54 Kluge, Roger
55 Schwarzmann, Michael
56 Selig, Rüdiger
57 Sweeny, Harry
Team BikeExchange - Jayco
61 Groenewegen, Dylan
62 Bauer, Jack
63 Durbridge, Luke
64 Konychev, Alexander
65 Mezgec, Luka
66 Reinders, Elmar
67 Stewart, Campbell
Team DSM
71 Welsford, Sam
72 Andresen, Tobias Lund
73 Bittner, Pavel
74 Degenkolb, John
75 Hvideberg, Jonas
76 Märkl, Niklas
77 Uden, Casper van
UAE Team Emirates
81 Ackermann, Pascal
82 Bjerg, Mikkel
83 Gross, Felix
84 Suter, Joel
85 Troia, Oliviero
86 Andersen, Kasper
87 Knight, Oliver
Alpecin - Deceuninck
101 Philipsen, Jasper
102 Ballerstedt, Maurice
103 Osborne, Jason
104 Poel, David van der
105 Keirsbulck, Guillaume Van
106 Krieger, Alexander
107 Vermote, Julien
Sport Vlaanderen - Baloise
111 Bonneu, Kamiel
112 Braet, Vito
113 Colman, Alex
114 Wilde, Gilles De
115 Fretin, Milan
116 Marit, Arne
117 Weemaes, Sasha
Uno-X Pro Cycling Team
121 Blikra, Erlend
122 Gudmestad, Tord
123 Kulset, Kristian
124 Blume Levy, William
126 Wærenskjold, Søren
127 Wærsted, Syver
BIKE AID
131 Bouvier, Léo
132 Rooij, Jesse de
133 Decker, Enzo
135 Lennemann, Anton
136 Niehues, Sebastian
137 Pahlke, Jasper Levi
Metec - Solarwatt pb Mantel
141 Artz, Huub
142 Lange, Thijs de
143 Hohmann, Lars
144 Konings, Roan
145 Marsman, Tim
146 Ottema, Rick
147 Veenendaal, Hidde van
Saris Rouvy Sauerland Team
151 Adamietz, Johannes
152 Borresch, Julian
153 Knolle, Jon
154 Briese, Max
155 Stockman, Abram
156 Stockman, Michiel
157 Voege, Lennart
Team Lotto - Kern-Haus
161 Brescher, Leon Eduard
162 Dreßler, Luca
163 Hugger, Jan
164 Huppertz, Joshua
165 Lührs, Leslie
166 Tarlton, Alexander
167 Theiler, Ole
VolkerWessels Cycling Team
171 Baak, Jord
172 Eising, Tijmen
173 Haest, Jasper
174 Kroonen, Max
175 Lindeman, Bert-Jan
176 Meer, Nick van der
177 Vermeltfoort, Coen
Deutsche Nationalmannschaft
181 Benz, Pirmin
182 Heming, Mika
183 Gebhardt, Philipp
184 Kanter, Max
185 Peter, Jannis
186 Kretschy, Moritz
187 Teutenberg, Tim Torn